Ghost writing services for books on Amigos Q&A Podcast with Unicorn Jazz Children's Book Series Author Lisa Caprelli
Are you an aspiring writer looking to get into the children's book industry but don't know where to start? Do you already have something written but don't know how to choose the best publisher for you? Or perhaps you just have some trouble getting the word out about your amazing children's story? If these are questions that are on your mind, then this upcoming event is the one for you to give you the answers you need.
Award-Winning & Best-Selling Author of Children's Book Series Shares Her Life Advice on the World of Publishing
On Tuesday, February 1st, Unicorn Jazz children's book series author Lisa Caprelli will be joining up with The Amigos Clubhouse for an incredible virtual podcast on how to write, publish, and sell your own children's storybook! Throughout the Q&A event, author Lisa Caprelli will share her experiences in story writing and book publishing, providing invaluable insights to emerging authors that you can only get from a best-selling and award-winning children's book series writer herself.
Topics that will be addressed in the Q&A will include:
How and why Lisa Caprelli decided to start writing children's stories
The obstacles she faces writing quality children's books that sell
Combating mental and emotional writing challenges
The why's of Social emotional learning
Common practices in the children's book publishing world
How to choose a proper editor and illustrator
Effective marketing and book promotion strategies
How to complete your manual for submission to publishers
And much more!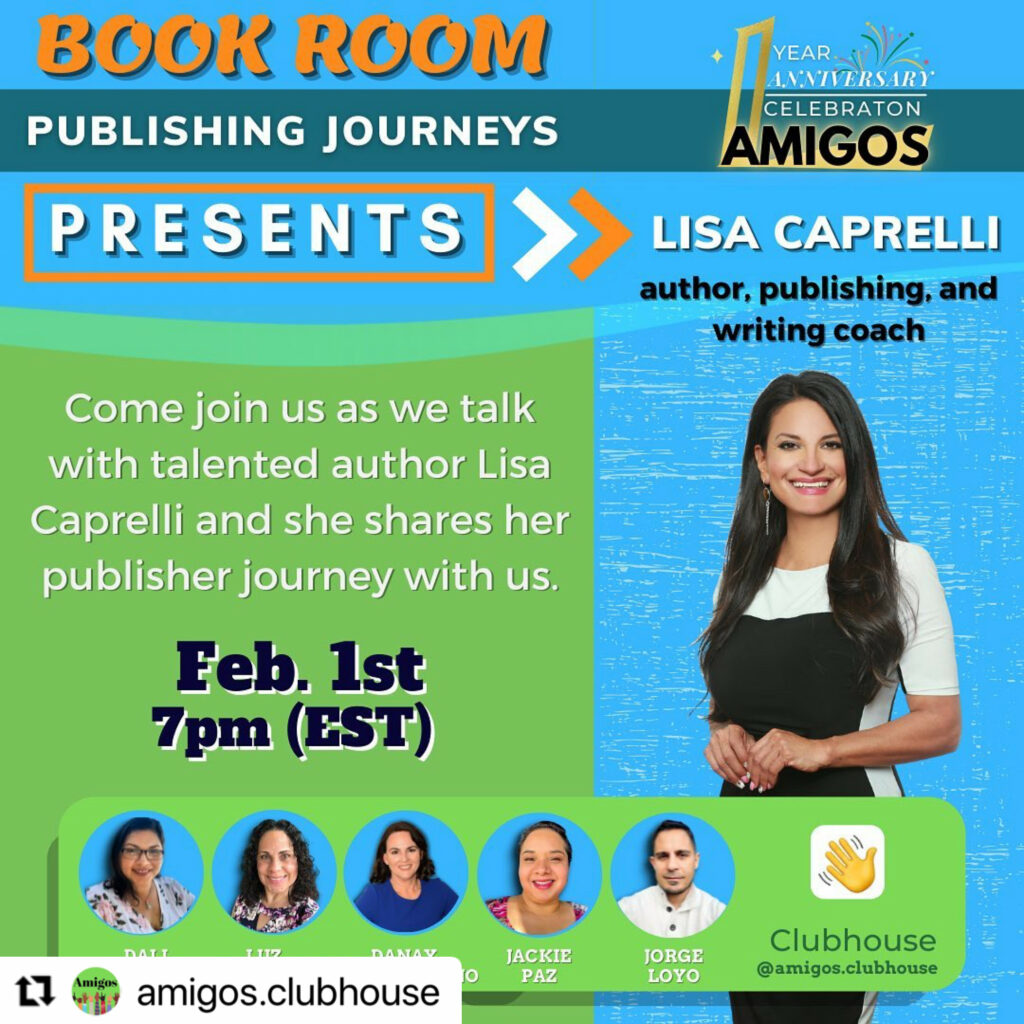 Join Us at The Amigos Clubhouse Q&A Chat with Author Lisa Caprelli
Dubbed "The Hub for Latino Professionals", Amigos Clubhouse is the online place for career-minded Latinx and Afro-Latinx individuals to connect, build professionally, and share knowledge of common interest with others in their field.
Click here to join Lisa Caprelli and The Amigos on Tuesday, February 1st, at 4pm PST/7pm EST for the live event or follow the link below
https://www.clubhouse.com/join/amigoslatinoslatinasunitenetworkfun/hxYq7h4X/myjyL2aW
See you there!