Branding
Building a brand is not easy; it takes vision, consistency, and unwavering authenticity. 
Branding 101
Your brand is the most important part of your business, whether you need to rebrand your company, or starting from scratch, we are the pro's.
Sales Tools
Allow us to help deliver top-notch products, services, ideas and purposes for you.
Effective, Clear, Sales Tools
Whether you need to improve your PowerPoint, convert it to a Prezi, get your sales team involved in effective CRM systems, we can help!
SEO Marketing
Let us help you keep up with SEO best practices, to keep you at the top of Google.
Up-To-Date SEO
Discover the keywords you should target to reach your audience and enhance your website's oganic reach. Explore valuable backlinking opportunities and make sure your website is optimized for modern SEO best practices.
Social Media
Utilize Social Media to increase your digital presence!
It's Great to Share
Whether you need to start from scratch and create your social media accounts or simply need social media strategy consulting, we do it all. Discover the immense power that social media can have for your brand's marketing strategy.
Website Design
Design, touch up, or modernize your website!
Modern Websites
As the foundation of your online existence, your website may be the most vital component of your business.  Customize yours to reflect your brand and take pride in welcoming clients to your new digital home.
Video Production
Get the most exposure using the power of video.
Video is Vital
Create beautiful brand videos that inspire your customers to take action or use whiteboard videos to tell the story of your business. Then strategically promote them on your website, social media, and YouTube.
Color Your Message
#1 Best Seller | Color Your Message helps you understand the importance of digital marketing in 2016 and beyond! Globally, video traffic will be 79% of all consumer Internet traffic in 2018. 80% of the U.S. uses Google to get found. There is an art and style to using today''s colorful digital tools you need to know about! Discover why old (traditional marketing) is out and why Color Your Message refers to branding, advertising and marketing.
Skip a Step is a series of books in the works by writers Lisa Caprelli and Michael Ashley. These are books about imparting wisdom on a genre of topics with the first volume on ENTREPRENEURSHIP AND LEADERSHIP for young minds (ages 13 to 24). Our goal is to help students fast track their life to business success. We are digging deep into the radical minds of these entrepreneur stories to understand what they value.
The Five Hats (2019)
The 5 Hats is a guide to help you balance five important areas of life:
The first is having a good family and making your own family legacy.  We all get to have what we want. The second is friendship. Three is career / business. As we've interviewed many people through the years, I've been privy to interview many people with wealth, because of the area we live in Southern California. I have been on a quest for happiness. The fourth hat is intimacy / connection. Number five is adventure.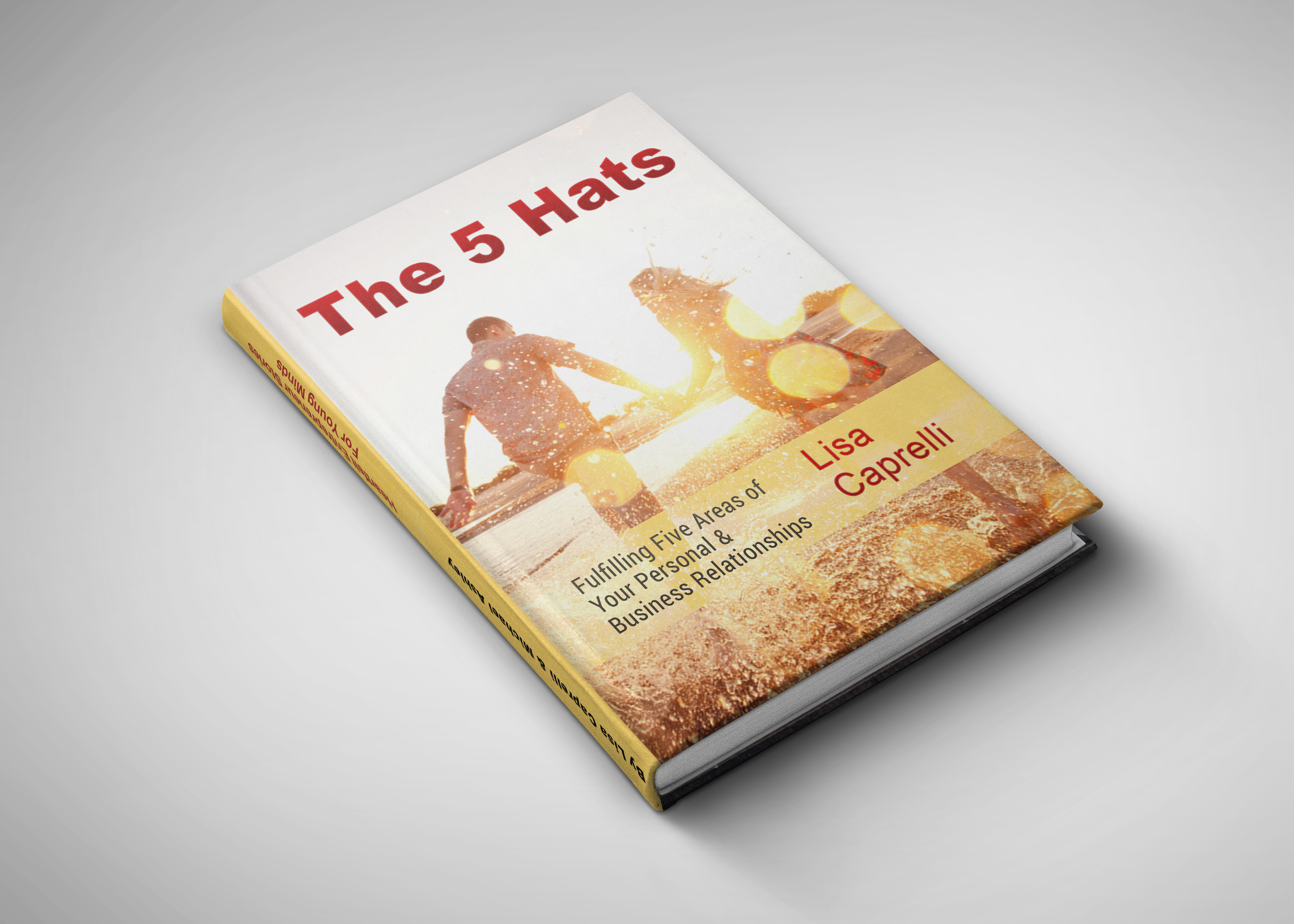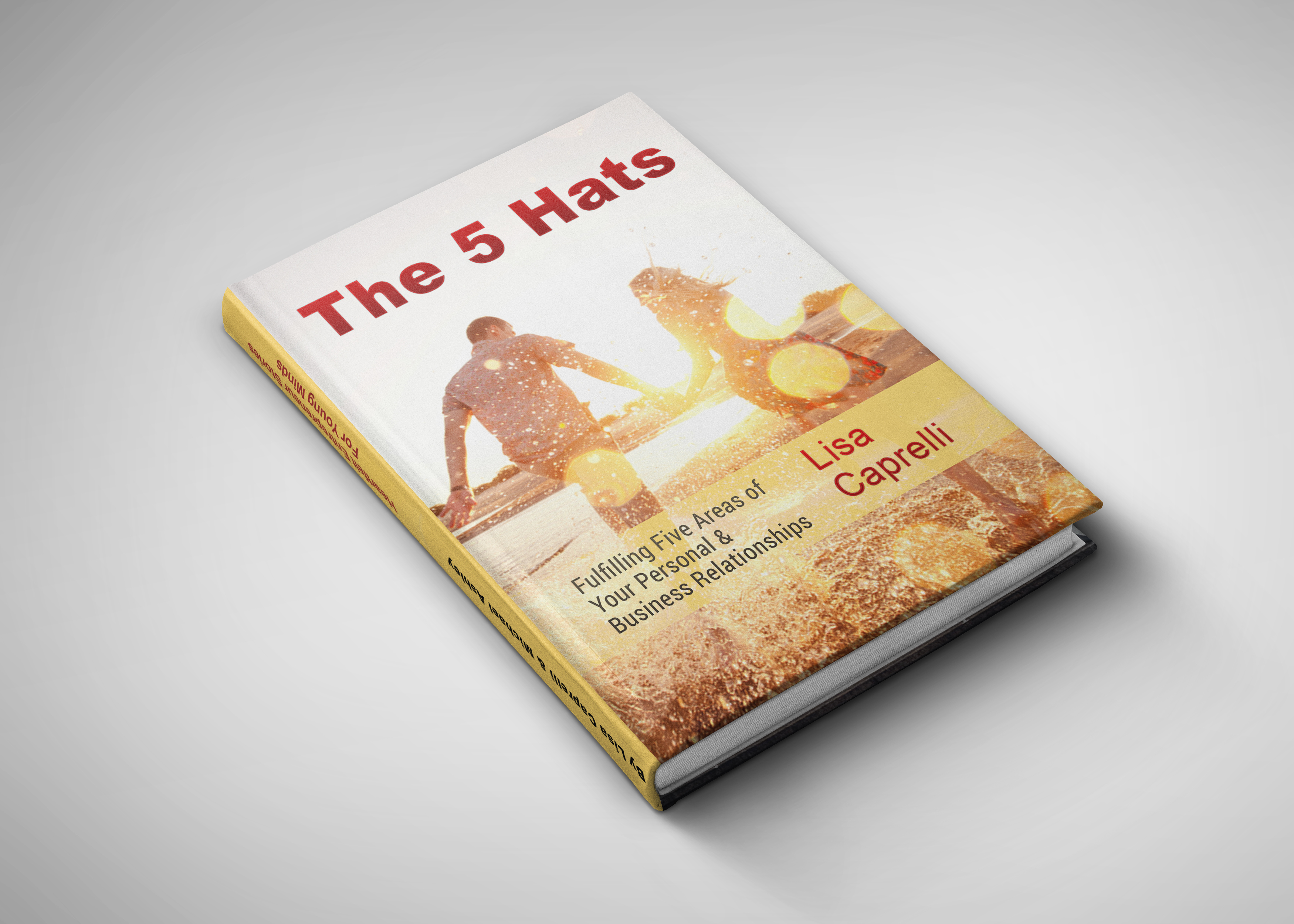 Ready to get started, but don't know where to begin? Let's get in touch!
With a 10-year radio career overlapping 20 years in business consulting, marketing, and branding, Lisa Caprelli strategically uses content and message branding to help companies grow. She's known for inspiring innovation in business leaders and has worked with businesses of all sizes, including Fortune 500 companies. Her media career has included The Business Experience Show, The Free Money Hour, and other programs on stations like 97.1 FM, KFWB, KNX 1070, KFMB, and KABC, as well as real estate finance and motivational books.
Subscribe for our newsletter and be first to get free tips, tricks, and special offers!