Skip-A-Step: Imparting Wisdom for Young Entrepreneur Minds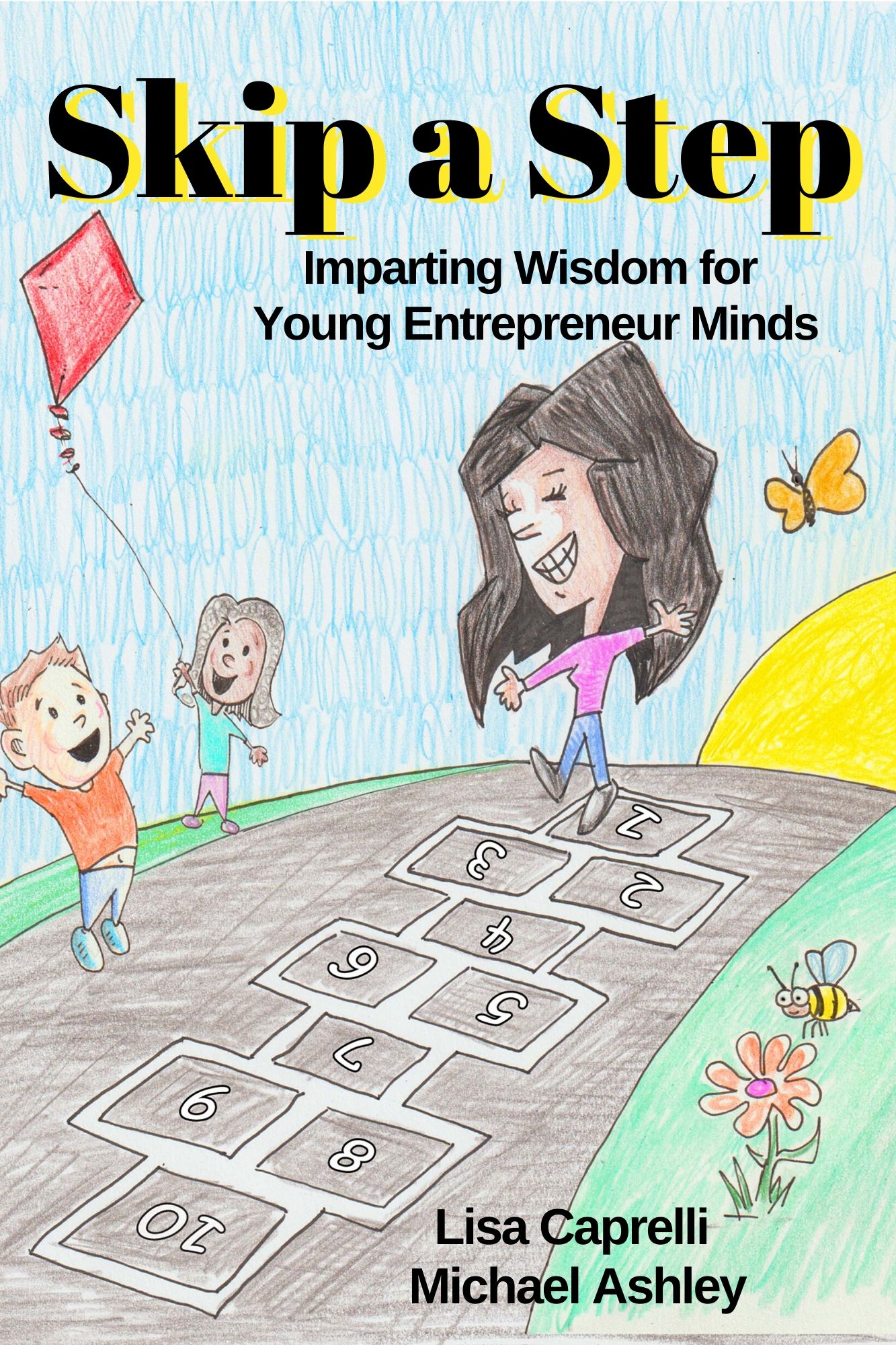 Skip a Step: Imparting Wisdom for Young Entrepreneur Minds is for any innovative young mind, as early as 5th grade to teenagers, young and curious people who want to learn more! You can go, do and be anything you want! This book contains true stories on what makes a meaningful, happy and purpose filled life, not just a successful one.
Thought leaders impart wisdom about creating lives that are works of art, embracing the heart and mind. Rather than celebrate materialism and the vapid drive for more wealth, we are creating an anthology of compelling narratives that seek to ascertain what constitutes a meaningful life, not just a successful one.
This book shows that the younger generation can take over the reins of leadership. Lisa interviews 13 successful entrepreneurial leaders across various industries and discusses their accomplishments, their failures, and their most important ideas and lessons. -Melissa Oltman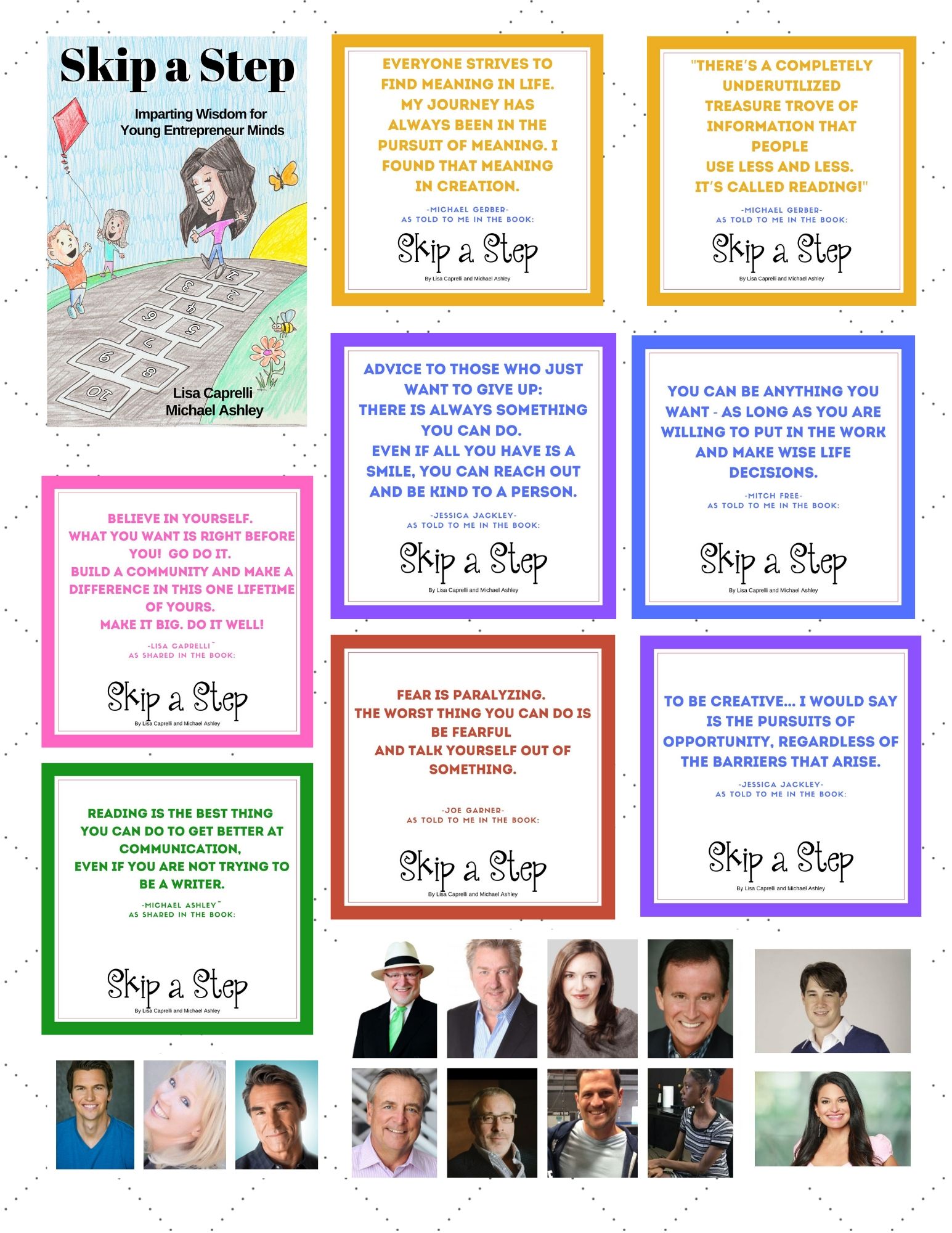 You will receive a wealth of knowledge! Discover what it truly means to be a leader in an age in which conformity is emphasized and risk is avoided.
Get the Skip-A-Step Journal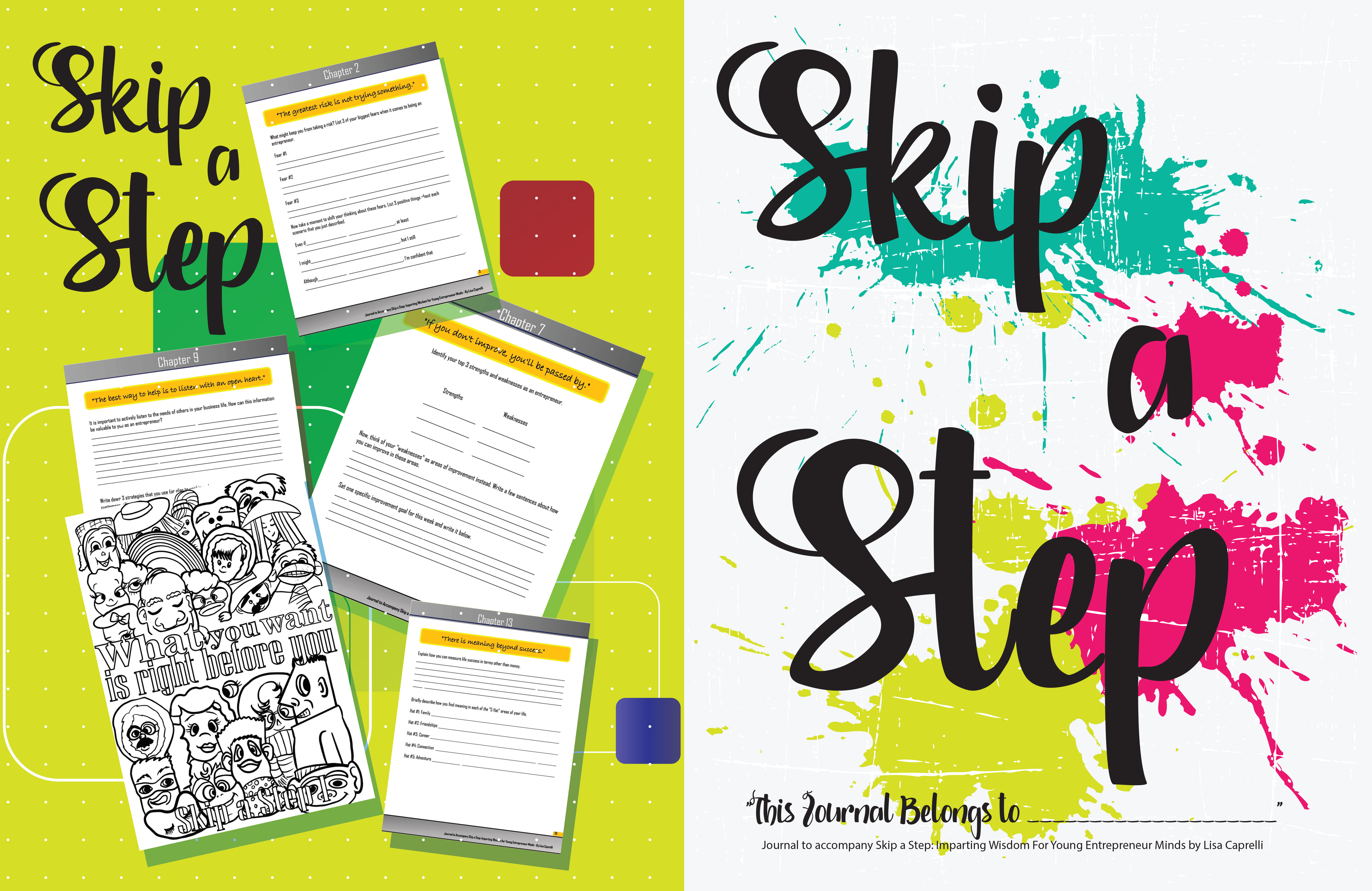 INTERVIEW WITH JOE GARNER
So many young people are programmed from an early age to go to school, get good grades, attend college, and then hope for a good-paying job. This used to be the "safe" approach to obtaining a successful life. But every once in awhile, a maverick like Mark Zuckerberg, comes along and bucks the trend. This person doesn't play it safe. Instead, they take risks. Perhaps they drop out of school. They put their heart and soul into building a company that has never existed before, offering a crucial product or service that no one else is providing. By doing something so disruptive and wholly original, they attain success on their terms. As a culture we celebrate these gutsy individualists as entrepreneurs.
INTERVIEW WITH MICHAEL GERBER
Your chance for an awesome experience
Get your e-book in your inbox today.
PREPARATION FOR ENTREPRENEURS
When being an entrepreneur isn't a choice in life but a necessity, Skip a Step will help open your mind's eye to the world of business and the future obstacles that await you on your journey, including how you can counteract and overcome them with swiftness, style and grace. While thousands of books have been written on adult entrepreneurship, very few have been made to assist our young inspiring leaders who are trapped solely by the constraints of time. Thankfully, authors Lisa Caprelli and Michael Ashley composed this book rich in information for such a purpose, containing decades of entrepreneurial experiences that strengthen the skin and sharpen the mind with each page absorbed; each sentence serving as a word of advice to our inspirational generation to develop the right attitude for success in all its forms – wealth, health, and relationships.
Skip a Step is a preparation course for young, soon-to-be, and current entrepreneurs, intended for those real-life situations that formal schooling doesn't teach. Each chapter provides a valuable life lesson shaped by a unique yet familiar design. Every true story comes from a different individual person, demonstrating how we all feel the same emotions at the end of the day – this book is here to help you deal with those emotions so you can get ahead of your game early on. Through documenting interviews with thirteen top professionals in their respective fields, Skip a Step provides you with the mental and emotional tools needed to make practical use of your personal and business life so that they can work for you in return. With the help of Skip a Step, you can learn all these attributes and more:
Keys to Becoming 'Socially Viral'
By tuning in to the identify of your true social purpose, Skip a Step shows you what your personal meaning of success should look like through establishing a firm definition of what it is that you want to be known for when everything is said and done. Yes, the younger generation always has more time than anyone else on this Earth but by defining your true social purpose today, Skip a Step can show you how to make every day that much more meaningful. More importantly to becoming socially viral, this book will help guide you towards properly supporting others so that, in turn, you can become more of a person whom people would want to support going further.
Don't Just be Bold – be Daring
Skip a Step will help you confront the brutal truth of any worst-case scenario, be it terminal illness, a split-up, moving to a new place, financial struggles, or identity issues. By achieving self-discovery through personal trials, this book will show you how to obtain essential lessons from hardships instead of drowning in them. Life is challenging. Dare to change the circumstances you don't like. Dare to leave those bad situations behind where your talents are heavily criticized rather than cherished.
Make Adversity Your Adventure
Skip a Step offers unmatched advice on how to make the most from seemingly nothing by fueling your creative drive and monetizing your adventurous spirit. Always be innovative, flexible, and realistic with your time while understanding the crucialness of effective communication.
Your Time is Precious – Manage it Well
By offering guidance through tips for job interviews and proper goal-setting, Skip a Step is here to help you stay close to your mission when those unavoidable tough times get you down. Prepare yourself on how to tackle life's daily challenges by making sure your future looks bright. Time spent learning is time not wasted.
Through emphasizing self-reflection and coming to understand the experiences of others who have succeeded despite turbulent times, Skip a Step demonstrates the necessity of having felt suffering, the lessons that can be learned from struggle, and how to develop the confidence needed to choose not to feel either anymore. By helping young leaders decide which business shoe to put on to get them the farthest, Skip a Step foretells how our upcoming generations can be most resilient and far-reaching of all time.