News, Media, Podcast List, Bio & PR
Lisa Caprelli is available for media interviews, speaking, presentations or podcasts.
Media, TV & Podcast Interviews of Speaker, Lisa Caprelli
Channel 11 News on Help and Give Back Book Donations for Elementary school
News reporter Michelle Ross covers Bronx School help and give back efforts with nonprofit Hindi's Libraries
Forbes article about Innovation
How to be more empathetic | Lessons from best-selling children's books - podcast interview
Good Morning La La Land - TV Interview
Good Day Orange County - TV Interview

KVIA ABC News -

TV Interview

KVIA ABC News, Choose Love -

News Report

Emily Isabel teams with Unicorn Jazz author Lisa Caprelli to inspire kids

-

Desert Sun Newspaper

Shout Out LA - Magazine article
Faces of Business with Host Damon Pistulka  - Linkedin Live Podcast Interview
Focus on What You Can Do By Host Brigitte Cutshall - Podcast Interview
Listen on Apple Podcasts -https://apple.co/3624E99
Listen on iHeart Radio - https://ihr.fm/2TmEWcO
Bringing Happiness with Unicorns & Rainbows - video podcast interview

Unlocking the Power of a Child's Imagination: Lisa Caprelli -

Podcast Interview
  Herahub Podcast Interview
When Fun Becomes Work - Women With Ambition podcast on Spotify  
Writing Your Own Path Coding the Future Podcast Interview by Dr. Sharon Jones
Dimension Latina Fm Radio TV by Bilingual Host Elsa Prado

Helping Kids Smile, Believe and Create! YouTube by Podcast Host Ande Lyons

The Latina Mom Legacy - podcast interview How does a Latina mom go from humble beginnings to becoming an award winning 16 book author and the brains behind the purpose filled children's brand Unicorn Jazz?  In this episode, Latina mom of 2, enchiladas lover, and Unicorn Jazz creator, Lisa Caprelli shares her inspiring story about creating a children's book and entertainment brand that gives back to the community.

Join us as we talk about why this first generation college graduate switched from marketing and branding over 150 CEO's to marketing and branding her own happiness driven brand .  Plus, we'll talk about how growing up poor has empowered her to give back, her fondest traditions, and how she's keeping her Latino traditions alive.  Asi que no te lo pierdas!

Happiness & Meaning Beyond the Lies, Podcast interview by Host Linda Heeler.  Lisa's story is inspiring. She is passionate about what she does which comes through in this conversation with Linda. Lisa is also a perfect example of breaking down the lies, personal and societal lies, when it comes to following our dreams.Lisa  grew up with humble beginnings in El Paso, Texas and is proud of her Latin roots and  has  26 years experience in  branding, public relations,  radio & podcasting but she has made writing her life.   Lisa went on a 2 1/2 year journey researching & interviewing 13 notable entrepreneurs on what makes for a meaningful, happy and prosperous life.  Compiling their wisdom she created,  Skip a Step:  Imparting Wisdom For Young Entrepreneur Minds.
The Business of Happiness with Podcast Host  Tarryn MacCarthy - Watch the full children's author podcast interview
Luminary Leaders Podcast with Shelly Harrison - podcast interview
Philosophy of Small Business - podcast interview
Impactful Relationships - podcast interview
Creating Your Vision podcast interview by Podcast Host Dr. Lewis in a conversation. Success 4 Women TV Show is viewed on Talk 4 TV (www.talk4tv.com).
Be Unique Like a Unique with Podcast Host Oscar Garcia
B'OF Podcast

Anchor

Breaker

Pocket Casts

RadioPublic

Spotify

Rutledge Perspective - podcast interview
Best of podcast speaker
Master Your Passion - Podcast In this episode we discuss:

Lisa's thoughts on leadership: "Leadership is helping others to create and do more with their innate ability."
her curiosity about how to best help young kids start developing strong ideals for happiness and not just lucrative careers.
the impact her grandmother and her 1st-grade teacher had on her at a young age.
the origin story of why she created Unicorn Jazz.
how she mastered the art of writing.
her thoughts on why it's so important to compliment others and help them develop.
how she navigated the world being really, really shy.
how the recession in 2009 led her to start her first marketing business.
her decision to create a children's brand and how easy it was to make that choice.
her thoughts about "million-dollar ideas".
how she nurtured her network and was able to build from the people she already had connections with.

Unicorn Jazz & the Difficulty of Learning During a Pandemic This interview is also on Podcast link

Unicorn Jazz & Hindi's Libraries Books Given to Bronx Kids (Bronx Times Reporter Article)
How To Write A Book That Sparks A Movement: Lisa Caprelli, Unicorn Jazz, & Social Emotional Learning (Medium.com Article)
Fresh Blood - 'Killing it After 40': Episode 065 - Apple Podcast with Lisa Caprelli - Former Branding/PR Specialist Turned Children's Author/Songwriter/Speaker
Dreamers to Leaders - Keeping It Real with Melody: Episode 25 - How To Help Kids Thrive Socially And Mentally In These Uncertain Times - Apple Podcast

Saturday, February 19th - 11 am - 11:45 am. Lisa shares how she made her characters come to life with puppets, writing, reading, and imagination. Inspired by Sesame Street and with her kids multi-media brand of Unicorn Jazz's Show, Lisa has created a way to teach and entertain entire school audiences, from grades K-8. Visit at https://whova.com/web/csla_202110/
FORTHCOMING:
CBS New New York
Aaron Community Cultural Center Back to school Donation Book drive, August 7, 2021
Children's Hospital of Orange County, Ryan Seacrest streaming storytime
Shade Tree Women's Shelter, Las Vegas
Careers & Cocktails, July 21, 2021
James Gardner Podcast, September 2021
Elizabeth Herrera Podcast July 22, 2021
David Hackett podcast, July 23, 2021
Podcast interview by THE GOOD AROUND US with host Stephanie Keally
H.O.T. Takes Podcast interviews Emily Isabel and Lisa Caprelli
Lawrence Henderson podcast
Linda Heeler Podcast
Good Vibrations Radio
Spiritual Rockstar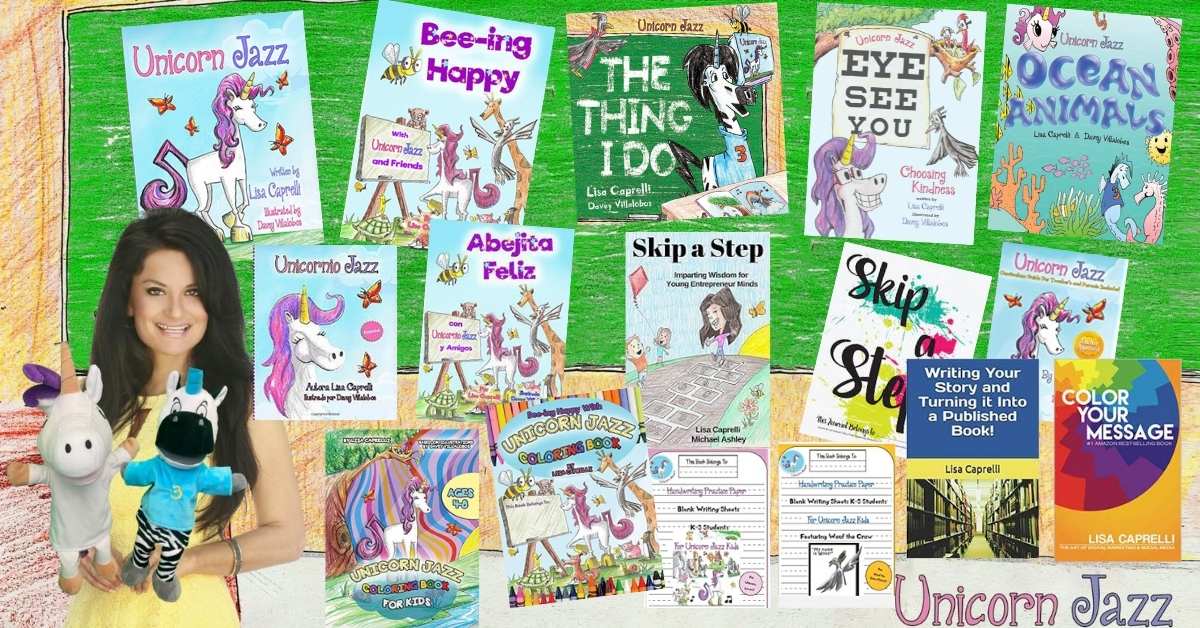 Lisa Caprelli is available for media interviews, speaking, author presentations or podcasts.
Lisa Caprelli is an author of 16 books, a songwriter, speaker, and host of the Amazon TV show called UNICORN JAZZ PRESENTS THE THING I DO.   Directed by Lisa Caprelli and Produced and created with a winning team of kid actors, singers and writers!  Click Here for Lisa's Bio & Press Kit
Lisa grew up with humble beginnings in the sun city of El Paso, Texas. She is proud of her Latin roots and culture.  She always wanted to live near the ocean and today lives in Huntington Beach, California. She has made Orange County, California her home for the past 20 years.  Lisa has experience presenting to elementary, middle and high school students and has taught at Long Beach State, California.
Having worked with over 150 CEO's and brands and with a 27+ years of writing, marketing, branding, public relations, FM/AM radio, The Business Experience Show, podcasting and writing background, Lisa Caprelli has made stories her life.  As an entrepreneur, Lisa went on a 2.5 year journey researching & interviewing 13 notable entrepreneurs on what makes for a MEANINGFUL, HAPPY and PROSPEROUS life.  Enter her book Skip a Step: Imparting Wisdom For Young Entrepreneur Minds.   It was through Skip a Step that she fulfilled her life's purpose to create the UNICORN JAZZ world in 2018.
Her books—"Skip a Step" and talks like "The 5 Hats"—draw from her experiences interviewing hundreds of people, specifically entrepreneurs, during the course of her more than 10 years in live radio broadcasting.   Caprelli has helped more than 150 brands build their business.
Caprelli also does virtual and in person author visits for elementary school age students. She currently resides in Southern California and is the proud mother of two boys. When she is not working as an entrepreneur, writing books, or interviewing the next generation of business leaders, she enjoys hiking, backpacking, camping, and running.
________________________
Meet children's author Lisa Caprelli, a Latina mom on a mission to inspire kids to learn.  Lisa was inspired by Sesame Street's combination of music, puppetry and talent to teach. 
During the pandemic, she found the silver lining for children to express themselves creatively while sharing HAPPINESS.  Utilizing technology platforms like YouTube, Facebook Live and Amazon TV, "Unicorn Jazz Presents The Thing I Do" was born. It has been described as a modern, educational and fun show for kids --with puppets, stories and with real kids -- who could send in their short videos and merge them into a TV show series.  
2020 tested many of us and it was during that time Lisa did not stop her nationwide school tour of presenting and encouraging the arts, reading, writing, music, and storytelling … Instead of feeling defeated, she took the opportunity to impact more families in the quickest, most efficient way possible --  by producing and directing an online kids' show!
To date, Unicorn Jazz, a multi-media brand has reached over 500,000 children through school tours, social media influencers, bloggers and podcast outreach!
Lisa uses her characters from the Unicorn Jazz series, offering social emotional learning in its books - turned some into puppets, Unicorn Jazz and Trezekke (pronounced tray-zee-kee) a zebracorn --  along with a puppet led game show -- "Happiness News" -- ocean animals --  original music soundtracks -- like: 
The Friendship Song

Rainbow song

Make that smile a little bit bigger 

Baby, I love you …  

and more!  
Created with numerous talented kids, actors and singers, the show has talent ~ like 13 year old, Broadway star, Emily Isabel.       Rhett Drennen shares his joy of reading -- along with fun facts to make learning fun and imaginative!
To learn more, go to UnicornJazz.com and to be part of the show go to UnicornJazz.com/show