Action Energizes! Entrepreneurs Need To "Do" To Maintain An Edge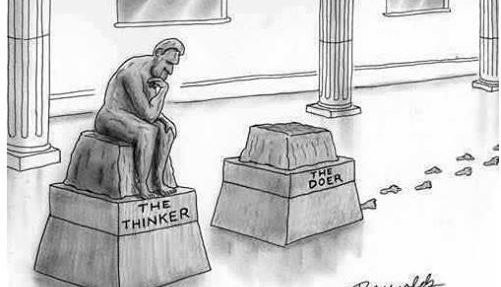 "The world needs dreamers and the world needs doers. But above all, the world needs dreamers who do (Sarah Ban Breathnach)."  What does this mean?  The "doing" part is just as important–maybe even more so– than the dreaming.  Whether you aspire to be an entrepreneur, President of the United States, or anything in between, you need to take actions to get there. So take action today and start doing!
For me, it's so much easier to do when you are enthusiastic about something. Passion inspires action.  The best lawyers love to argue.  Great Chefs are foodies.  Service-minded men and women make excellent healthcare professionals.  Why?  Because they've succeeded in translating their passion for something into concrete action.
Let's face it, all great people became great by doing.  It's why the parent who made the fortune is so much more interesting than the child who inherited it.  We know that the parent took intriguing actions in order to be rich.  And that fascinates us!
Successful people make use of a phrase I love to use: "why wait to begin something you can start doing now?"  In other words, they didn't get to where they are by procrastinating!  The rationale behind this is simple: the quicker you get one thing done, the sooner you can begin working on the next one.  Then, like a snowball of success, the many separate actions eventually add up to you being in a great position.
Chances are, you can even "do" yourself out of mediocrity.  So once again, do!  Put ideas and goals down on paper.  Re-read them until they are burned in your memory.  Then, turn them into manageable action steps.  Synonyms that describe mediocre are: everyday, run-of-the-mill, and undistinguished.  How boring does that sound?  The enthusiastic and disciplined actions you take will ensure that you sail right past mediocrity and into success.
So raise your standards. Start doing.  And achieve more than you ever thought possible.